Vajpayee's ultimate cold warrior
Mishra has been described as a 'hybrid between Chanakya and Henry Kissinger' — a man with a 'steel stomach', with the ability to strip through the rhetoric and focus on key issues.
RAJ CHENGAPPA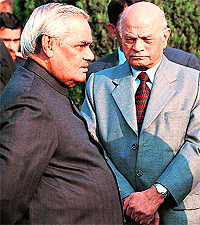 A file photo of Brajesh Mishra with then Prime Minister AB Vajpayee. Tribune photo: Mukesh Aggarwal
http://www.tribuneindia.com/2012/20120930/edit.htm#3
W
HEN
I spoke to Brajesh Mishra last month, he was as usual brusque and precise in his answers. He never suffered fools or foolish questions and could be intimidating to those unfamiliar with his manner. Despite his failing health, his memory remained razor sharp. I had checked with him whether during the 1999 Kargil War, Pakistan had conveyed a nuclear threat to deter India from launching a full-scale war.

Mishra said India had no evidence that Pakistan would carry out a first strike but confirmed that India had kept its nuclear weapons in a state of readiness, just in case.

He then disconnected the phone.
Mishra, who died on Friday, just a day short of completing 84 years, was India's first National Security Adviser and Principal Secretary to Prime Minister A.B. Vajpayee from 1998 to 2004. Just 50 feet of red carpet separated his room from that of Vajpayee in South Block and whenever the Prime Minister was there, Mishra was at hand. The degree of influence he wielded with Vajpayee and his closeness to him drew comparisons with the relationship the legendary PN Haksar had with Mrs Indira Gandhi during her first tenure as Prime Minister.
A Jawaharlal Nehru University professor once described Mishra as a "hybrid between Chanakya and Henry Kissinger"

. He was known as a man with a "steel stomach", with the ability to strip through the rhetoric and focus on key issues. The immense power he wielded with the twin posts and his access to Vajpayee saw him face severe criticism.
In an article I wrote for India Today in 2000 I had termed him as a 'supercrat' and talked of how increasingly he was looked upon as a "control freak" and "a lone ranger." I also mentioned that Vajpayee's Mr Troubleshooter, with his background as a former Indian Foreign Service officer, was out of depth in economic matters and it was beginning to tell on the efficacy of the Prime Minister on domestic policy issues.
I met Mishra soon after the article was published. He was visibly upset. But all he did was to point his index finger to his forehead and wiggle it to indicate that he thought his critics were "pagal". His supporters pointed out that the attack on Mishra's style of functioning was part of a proxy battle to get at the Prime Minister. It was apparent that Vajpayee trusted him intrinsically and resisted all pressure to move him out or clip his wings.
That sort of trust and respect was hard earned. Mishra's finest hour was during the 1998 Pokharan tests, where he played a large part in convincing Vajpayee to go ahead with the explosions early in his tenure. The timing of the tests not only caught the world by surprise but also many of Vajpayee's Cabinet colleagues. Mishra was part of the inner circle that knew when. So secret were the timings that Vajpayee briefed his Cabinet colleagues, including LK Advani, only a day before the tests.
Mishra's assessment to Vajpayee, that if India played its business and political cards well it would weather the international storm over the nuclear tests in six months, proved to largely correct. Mishra had predicted that Pakistan would go ahead with its own tests and end up facing serious economic consequences. That the US would clamp sanctions on India, but he was confident the Indian economy was resilient enough to withstand the sanctions. That Russia, though uncomfortable with the tests, would back India. But his advice to Vajpayee to target China in a letter that the Prime Minister wrote to then US President Bill Clinton soon after the tests proved to be embarrassing when it was leaked.
After the tests, Mishra continued to play a key role in the decision-making process. At the height of the Kargil conflict he met his US counterpart, Sandy Berger, and reportedly delivered a message from Vajpayee to Clinton. Mishra remained tight-lipped about what he really communicated, but it is believed that Vajpayee had indicated to Clinton that India was readying itself for a full-scale war with Pakistan if the US was unable to convince Pakistan to withdraw from the heights.
I do have a personal story of Mishra that would demonstrate the clout that he wielded as Vajpayee's Man Friday. I remember that when I had obtained exclusive pictures of the 1998 Pokharan tests, including that of key Indian atomic scientists and APJ Abdul Kalam disguised in army fatigues at the test site, it was Mishra who took the decision to allow me to publish them. As far as I know, he took it without consulting the Prime Minister — such was the confidence he enjoyed. I never did thank him. I am doing so now.
__._,_.___