October 25, 2013 14:06 IST

http://www.rediff.com/news/column/strategic-india-moves-on/20131025.htm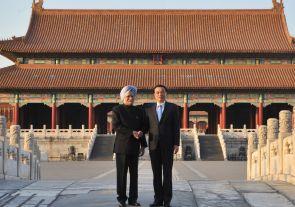 The India that needs strategic alliances, defence cooperation and engaging meaningfully with neighbouring countries is quietly moving ahead with confidence, says Tarun Vijay.
E
ight is a lucky number in China and so is it in India. If people pay large amounts of money in Beijing and Shanghai to get the number eight on their cars and mobile phones, in India, from Jammu to Ahmedabad and Kochi to Dibrugarh, eight is the symbol of Goddess Durga, the provider of Shakti, ultimate power. Ashtbhuja Devi or the eight-handed Goddess is the most sacred and powerful goddess we worship.
Hence, when Prime Minister Manmohan Singh moved from Nehru's five, ie, the Panchsheel, to number eight, in his speech given at the Central Party School in Beijing, dwelling at length the eight-point structural road of mutual cooperation and strategic partnership with China, it was more than mere symbolism. India's latest eight points present a picture of a rising, confident power and, interestingly, doesn't hesitate to seek Chinese expertise in various fields to build a partnership for accelerating growth.
Speaking about the 'opportunities for cooperation between India and China', Singh said, "I would like to highlight eight specific areas in this regard".
'
One, we need to pay much greater attention to the expansion and modernisation of our infrastructure.
India plans to invest US $ 1 trillion in infrastructure in the next five years and we would welcome China's expertise and investment in this sector.
'Two, we need to increase our agricultural productivity in order to reduce rural-urban disparities in income and manage efficiently the process of mass urbanisation,
which is a phenomenon common to both our countries. China has significant experience of urbanisation and our national planners, city administrators and entrepreneurs should share experiences and seek solutions in dealing with the physical, social, environmental and human challenges of mobility and urbanisation.
'Three, we want to draw upon China's strengths in the manufacturing sector, which is vital for providing mass employment.
India, for its part, has strength in services, innovation and certain manufacturing sectors, which can benefit China. A related challenge for India is in skill development, where we can learn from each other's experience.
'Four, as large and growing consumers of energy, we should intensify cooperation on the shared challenges of energy security,
including the joint development of renewable energy resources, as well as working jointly with third countries.
'
Five, in an uncertain global environment, India and China can work together to impart stability to the global economy and sustain growth in our two economies
by leveraging our resources, large unsaturated demand, economies of scale and our growing income levels.
'Six, protectionist sentiments in the West have increased and the global trading regime may become fragmented by regional arrangements among major countries.
India and China have a vital stake in preserving an open, integrated and stable global trade regime even as we work together to foster regional economic integration. We should also intensify our efforts to support trade and investment and reduce risks in emerging markets. The BRICS Development Bank and the Contingency Reserve Arrangement are examples of such cooperative efforts.
'Seven, both India and China are heirs to civilisations that value nature and have practised sustainability through the ages. We should ensure that the international response to climate change does not constrain our growt
h and that it continues to be based on the principle of common but differentiated responsibilities.
'Eight, terrorism, extremism and radicalism emanating from our neighbourhood affect both of us directly and can create instability across Asia.
Similarly, maritime security in the Pacific and Indian Oceans is vital for our economies just as peace and stability in West Asia and Gulf are essential for our energy security.'
We have come a long way from 1962 and if there are weaknesses, there are points of strength too. The 24x7 self-deriding attitude is not only demoralising for the forces but also lets the enemies become more offensive and aggressive. Whatever colour the central government wears, no one can dare to compromise on national interest. That's the power of our democracy and the inherent flow of patriotism running through the veins of our foreign office constituents too.
Fight we must in the domestic arena, but India abroad must wear only one colour, the tricolour.
Covering the PM's China visit, the media dwelt more on the delicious food and the popular Hindi movie numbers played,
but the real flavour lay in the delicacy of the Border Defence Cooperation Agreement signed by Manmohan Singh and Li Keqiang. The basic source of all tension and escalating anger against each other is the border tension. The BDCA is a major milestone that should prove helpful to reduce border area scuffles and the resultant public anger. That China and India agreed to ensure neither side will "follow or tail" the patrols of the other side not only in areas which are still awaiting a mutually agreed line of control, but also along the Line of Actual Control, is a major understanding achieved for the first time since 1962.
Such a clause will help immensely to reduce the possibility of any gunfire or escalation of a confrontation on the borders. It also includes a clause that in case of a face-to-face situation, both sides "shall exercise maximum self-restraint, refrain from any provocative actions, not use force or threaten to use force against the other side, treat each other with courtesy and prevent exchange of fire or armed conflict".
The other points of the agreement show a pathway to implement what is contained in the first clause, ie, exchanging information on military exercises, aircraft, demolition operations and unmarked mines, organising flag meetings and the India-China Annual Defence Dialogue.
As a relaxing factor, joint celebration of each other's national days, military days of importance and cultural festivals is also envisaged.
Apart from the major issue of boundary settlement and the humiliating stapled visa incidents, correcting the trade imbalance and ensuring a just and non-threatening usage of Tibetan water resource is a difficult terrain to be negotiated. According to the latest reports, in 2012-13, India's trade deficit with China was about $39 billion, against $37 billion in 2011-12. In 2012-13, India's exports to China stood at $13.53 billion, while imports stood at $52.24 billion. And can we envisage an agreement based on international law between India and China on the lines of being upper and lower riparian states as the two countries share 16 major rivers?
So one can safely say that whatever the flavour of desi politics, the India that needs strategic alliances, defence cooperation and engaging meaningfully with neighbouring countries is quietly moving ahead with confidence.
In less than a month's time, India engaged with the US, Belgium, Turkey, Hungary, ASEAN, and now Russia and China.
Perhaps it will be the first time that an Indian prime minister would be visiting Moscow after a defence hardware and technology transfer agreement with the US, although our foreign minister had dashed off to Kremlin from Washington, DC, ostensibly in a bid to remove any misgivings that India is slowly replacing Russian military suppliers with Western ones, the chemistry that was evident in Moscow during the Singh-Putin talks showed the importance India commands.
Emphasising that relations with India predate 1947, Putin gave Singh a precious artwork dating to 1890-91 that was brought by Nicolas II before he ascended the throne of imperial Russia. The media described as "a gesture beyond normal protocol" when Putin gave Singh a Mughal-era coin and a map of India that dates to the turn of the 19th century.
Even Putin's Beijing visit was not successful in inking a long-term gas supply contract, so the Kudankulam kinks can wait a bit, but seeing the warmth both leaders exhibited, it shouldn't be a problem to have it sorted out sooner.
India was obviously reminiscing about Russian help during India's critical times and Manmohan Singh repeated once again what all other leaders have been telling Kremlin in emotional words: "No country has had closer relations with India and no country inspires more admiration, trust and confidence among the people of India than Russia".
With Russia we must sort out the differences in bilateral defence cooperation. Can the Akula-II (rechristened
INS Chakra
) submarine prove a cementing force once again? (The Akula-II class nuclear-powered submarine K-152 Nerpa was commissioned to the Indian Navy on January 23, 2012. The nuclear-powered submarine, to be leased to India for 10 years, has been rechristened
INS Chakra
by India, and will be the only submarine that India will have after a period of 20 years).
There have been a number of such steps, which have brought India and Russia back on the same old platform of trusted strategic partnership that existed before India's experiments with military hardware supply diversification idea. India test-firing the new version of BrahMos cruise missile is one such feat. India and Russia have also reaffirmed "convergence of views" on Syria, Afghanistan and terrorism.
Really very true. It will be a folly if India chose to ignore Russia in search of other options. It may not only not get new long-term trustworthy allies but also lose Moscow's time-tested friendship too.
And before Moscow, USA was quite warm. Not just good food, President Obama broke protocol to see off the Indian prime minister and came up to his car, a first that was projected so well by an obliging media.
India had the biggest defence cooperation agreement finalised in Washington, that includes defence technology transfer, joint research, co-development, and co-production. President Obama encouraged the further participation of US firms in India's efforts to enhance its defence capacities and welcomed India's decision to participate in the Rim of Pacific naval exercise hosted by US Pacific Command in 2014.
"We believe that if there's a strong India, that's good for the world, and it's ultimately good for the US," Obama declared.
Prime Minister Singh flagged India's concerns over terrorism emanating from across the border and described Pakistan as the "epicentre of terrorism".
USA's assurances notwithstanding, it will be imprudent to ignore Washington's $ 1.5 bn resumed assistance to Islamabad immediately after Singh left. And during Nawaz Sharif's Washington visit, US Secretary of State John Kerry announced that the US and Pakistan would wage a joint war against terrorism.
The newspaper headlines on Nawaz-Obama meet were: 'Obama, Nawaz agree on joint strategy to counter terrorism for regional stability'.
And they want us to believe this.
The US certainly inspires in us democratic values, pluralism and an all-encompassing model of progress. The mere mention of Thomas Jefferson, Abraham Lincoln, Martin Luther King Jr, John F Kennedy makes us feel energised by noble values. But it's time we also see if the White House has implemented the values it espouses.
The recent Garry J Bass book,
Blood Telegram,
reveals more than what we had known all along. The disdain of the Nixon era, the Kissinger backstab, help to all the despots and feeding military hardware with unending dollar grants to India's arch enemies like Pakistan, and the spiteful words used for Indira Gandhi and the Indian people by Nixon and Kissinger, are just a few examples of US duplicity.
Let's wish that India gains more in strength to defend its interests more vigorously. It's Indian sinews and will that matters the most.
Image: Prime Minister Dr Manmohan Singh with the premier of the People's Republic of China, Li Keqiang, in the Forbidden City, Beijing, China on October 23, 2013 ' Courtesy: Press Information Bureau.
Tarun Vijay is member of the Rajya Sabha; member, Parliamentary Consultative Committee on the ministry of external affairs; member, Parliamentary Standing Committee on the ministry of human resource development; member, Parliamentary Group on India China Friendship.
Tarun Vijay
__._,_.___